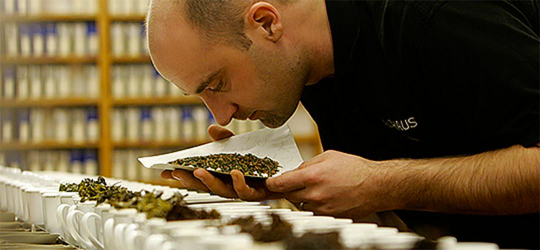 Experiences are precious. They reflect time, devotion, and passion. ALTHAUS is a young company whose tea specialists have more than 60 years of experience. Based on their knowledge of the long traditions of tea cultures from around the world, German, Russian, and American experts have developed contemporary tea concepts.
Ralf Janecki is an internationally renowned tea taster whose love and passion for tea is the foundation for his success. He carefully selects ALTHAUS teas, creates new blends, and cultivates intensive relationships with preferred producers and packing companies.
He is supported by an international team which considers itself ambassadors of a modern tea culture: young, open, and full of cosmopolitan flair.
ALTHAUS combines the demands for highest product quality with modern production methods, old tea traditions with surprisingly new tea compositions, and attractive design with superb value for money.
Our enthusiasm for top-quality tea guarantees that our customers have diverse, blend-specific, and rich-tasting tea experiences.
ALTHAUS tea experts combine their extensive knowledge of the best tea-growing regions with a sensual connoisseurship and a skillful judgment of product quality. Their fine grasp of delicate blending finds expression in perfectly balanced and innovative tea varieties enjoyed by people all over the world.
Our experts evaluate ALTHAUS blends not just according to the gardens and regions where the tea grows but also according to the tea's aroma, color, look, and taste. Tasting and testing of all ingredients as well as the blending is a highly comprehensive process which is controlled intensely.
ALTHAUS knows that many factors contribute to the pure enjoyment of tea, which is why we make sure to pay attention to every single one on regular visits to preferred growing regions, thus helping us to establish thriving relationships with the world's best tea plantations. Our trusted partners import the teas, which were carefully selected by us. Afterwards, all refining processes are carried out in Germany under our strict supervision.